Dated 05.18.2017, the Company held groundbreaking ceremony Sonadezi road works Thuan Truong - Bau Ham 2 in Song Thao commune, Trang Bom District, Dong Nai Province. Attending the ceremony were Ms. Do Thi Hai Yen - Office of the National Assembly delegation of Dong Nai province, representing District Party Committee, People's Committee Trang Bom District, Song Thao CPC and the people in the locality.
Road works Thuan Truong - Bau Ham 2 is building rural roads by the Corporation Sonadezi and member units join together to take to contribute to the improvement of transportation infrastructure, serving domestic demands of the people Song Thao.Voi commune total investment of about 3.1 billion, road works insulator School Ham Thuan 2 about 1.3 km in length, texture hot asphalt. The construction includes the categories: the pavement, drainage systems and traffic safety systems (load restriction signs, signage at the location where the fork, marker). It is expected that the work will be put into use after 75 days of construction.
According to Pham Xuan Ha - Trang Bom District Secretary: "Song Thao commune is the most difficult area in Trang Bom district. In the war, the people of Song Thao had the great revolution, which provide regional logistics for Bien Hoa Party Committee U1. Currently, although the target material area and very large bananas, but infrastructure in the province is limited. Main route Ham Thuan Truong insulator 2 has seriously degraded, making it difficult for people living in and transport of agricultural products, especially during the rainy season. Trang Bom district are eager to do this route in order to reward merit in the people's resistance Song Thao commune, and facilitate farmers transport and consumption of agricultural products and reduce costs. Thereby, motivate the development of this region ".
Road works Thuan Truong - Bau Ham 2 is the results from the mount, support development between localities and enterprises in the province of Delegates Congress of Dong Nai province to assist the remaining areas difficulties. To funding the entire cost of implementing this project, the Corporation Sonadezi want to contribute to the development of the route rural communes and remote and local support building new rural areas, improving material life and facilitate the people in production and daily life.
In 2017, road works outside Thuan Truong - Bau Ham 2, the Corporation has invested Sonadezi lighting system to Giang Dien commune with total funding of more than 1.7 billion. Simultaneously, Sonadezi continue implementing the program Thousands of gold hearts on maintaining continuous 9 years with a total budget implementation in 2017 of about 910 million to support 26 homes for special circumstances difficulties province. Until now, Sonadezi donated 236 homes Thousands of gold hearts for the poor households with a total value of about 7 billion implementation.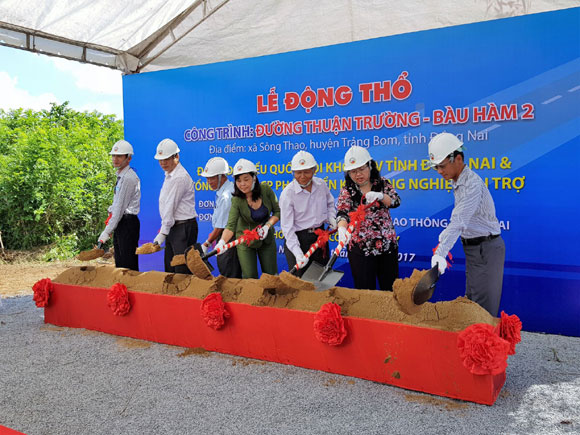 The participants performed the ritual commenced road works Thuan Truong - Bau Ham 2
Source: http://news.sonadezi.com.vn